Semiconductor Equipment Builder in Singapore
04/10/2021
The semiconductor equipment business produces a diverse range of machines from bonding and molding, trimming and forming, to the integration of all production lines into complete in-line systems for microelectronics, semiconductor, photonics, and optoelectronics industries. As such, equipment builders are themselves susceptible to global supply chains and commodities used in manufacturing these machines. Consumer-grade components and parts will not meet the strict benchmarks and reliability requirements for customers who purchase equipment, and equipment builders do not want to be inundated with products that keep needing RMA returns.
A world leader in the supply of semiconductor assembly and packaging equipment and surface mount technology solutions based in Singapore who produces high-quality equipment for all major steps in the electronics manufacturing process - from carrier for chip interconnection to chip assembly and packaging to semiconductor manufacturers. Initially they produced some of their equipment using consumer-grade components and parts but found they had problems with their customers who purchased their equipment but struggled with reliability and other issues. Being a long term partner with Advantech, they approached Advantech for an industrial-grade hardware solution.
Advantech noticed board damage issues when customers assembled their industrial motherboard within their own consumer grade chassis. Without a complete industrial grade solution, they noticed RMA rates were high as their customers complained of issues relating to product longevity, material changes, and revision control of both HW and SW. So, Advantech proposed a customized total solution that would avoid board damage and would also satisfy their customer's strict requirements.
Part of the solution included a customized 13" chassis with AIMB-786 Intel 9th Gen desktop core I3/I5/I7 industrial-grade ATX motherboard. Multiple expansion slots allow different external cards for different models. In the early stage of chassis customization, Advantech considered future potential spec/function expansions such as power upgrades that needed careful space and thermal flow considerations. For this project, the cable length and pin specs also needed to be customized and our mechanical design team also considered cable placement within the chassis, which helped facilitate air flow throughout the chassis and made assembly/upgrading easier.
Being a global semiconductor supplier, customers needs to be competitive in the field, Therefore, a reliable industrial grade specification with careful revision control management would ensure the customer spends less effort on hardware changes, and focuses more on software development. Plus, world-wide RMA and logistic support were two key points to improve their global business.
AIMB-786 : 8/9th gen industrial ATX motherboard
PCI-1245 : 4-axis stepping and servo motor control card
PCE-USB4-00A1E : 4-port USB 3.0 card (1-3pcs/ per unit)
PCI-1620 : RS-232 communication card

Customized 13" chassis with 300W - 500W PS2 PSU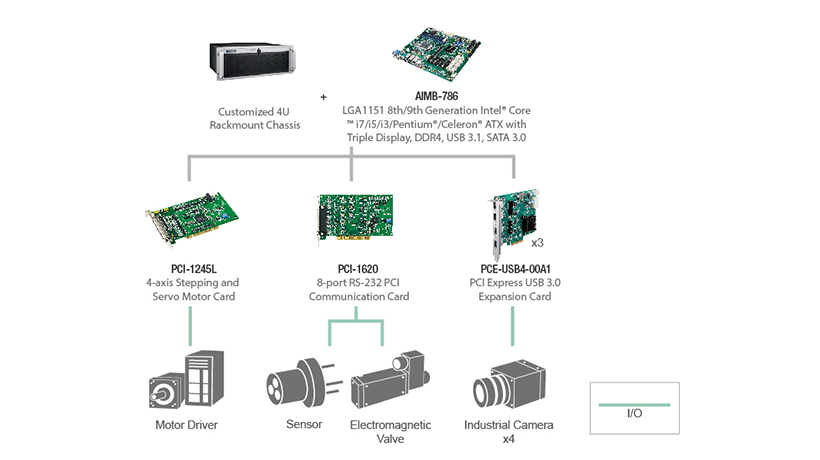 The target for the Advantech IPC team was to understand all the details about the actual issue and manufacturing background, then propose and design the most appropriate solution to fulfill customer's requirements and deliver a highly reliable solution. Advantech works with 1st tier IC supplier (to provide the latest generation chipsets, so customers enjoy the latest technologies. Advantech's global RMA service and logistics management, and worldwide after sales service helped secure the customer's confidence and trust.
Extensive system design experience
High quality industrial grade design
Longevity support and revision control

One shop service from design to certification.Global RMA and logistics support.