【Award】Advantech's LEO-W Wearable Barcode Scanner Ring Wins 2020 Taiwan Excellence Award
12/11/2019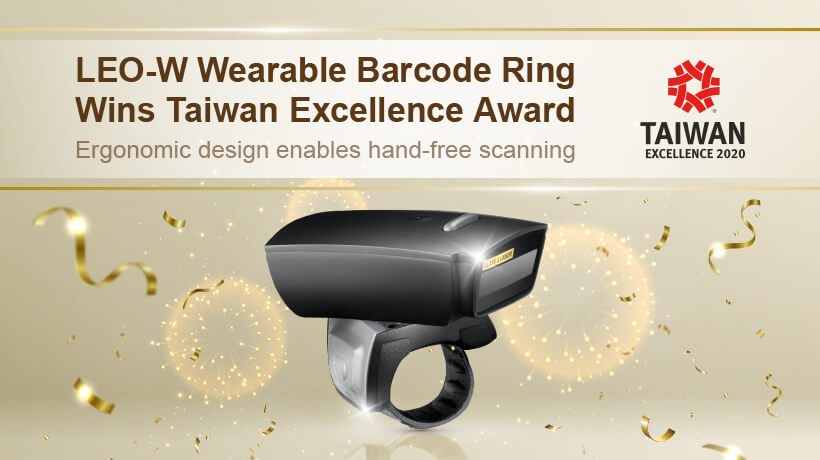 Taipei, Taiwan, November 12, 2019 – Advantech, a leading provider of industrial computing solutions, is pleased to announce that its LEO-W wearable barcode scanner ring was honored with a 2020 Taiwan Excellence award. This prestigious award is considered one of the highest honors in Taiwan's industry. Advantech's LEO-W wearable barcode scanner ring was selected by the jury for "impressively demonstrating superior innovation".
Universal Design with Optimized Scan Button Enables Hands-Free Scanning
The LEO-W wearable barcode scanner ring is an ultra-compact Bluetooth barcode scanner that is worn on a finger for hands-free scanning. Designed to streamline workflows for warehouse, logistics, retail, and inventory management applications, LEO-W is capable of scanning barcodes printed on paper labels or displayed digitally. Unlike traditional barcode scanners with a capacitive touch pad, LEO-W features an optimized physical scan button for superior control and power savings. The LEO-W barcode scanner is available with five ring strap sizes and can be worn on either the left or right hand for maximum flexibility and comfort. Moreover, LEO-W features a magnetic connector for easy battery recharging, thereby eliminating issues related to cable bending.
Compact Yet Durable Solution Ensures Reliability for Industrial Applications
To ensure reliable operation in harsh industrial environments, LEO-W features a wide operating temperature range (-20 ~ 50 °C/-4 ~ 122 °F), IP54 rating for protection from water and dust, and can withstand drops of up to 1 meter. The compact, lightweight (33 g) design allows LEO-W to be deployed for a wide range of applications. For long-duration use typical of shift work, the built-in battery supports up to 8 hours operation and can be recharged within 1.5 hours. Overall, LEO-W provides a great-value mobile data collection solution with the durability to withstand rough handling in industrial environments.
Built-In Bluetooth Connectivity Facilitates Easy Integration
Equipped with Bluetooth communication technology, the LEO-W barcode scanner ring can be easily paired with a wide range of devices for real-time data collection. Moreover, the scanner can operate at distances of up to 10 m (33 ft) from the host system, increasing worker mobility and overall efficiency. By reducing workflow interruptions and data-entry errors, the LEO-W barcode scanner ring allows managers to streamline operations and increase productivity.
Wearable ergonomic design with optimized scan button enables hands-free scanning
Universal design for the left/right hand with flexible ring sizes
Bluetooth connectivity ensures easy integration and reduced power consumption
Compact, lightweight (33g) design for convenient deployment
IP54 rating and 1-m drop protection ensures reliability for industrial applications
Magnetic connector enables easy battery recharging

Advantech's LEO-W wearable hands-free barcode scanner ring with optimized scan button is available for order now. For more information regarding LEO-W or other Advantech products and services, please contact your local sales support team or visit our website at https://www.advantech.com/solutions/ilogistics
Advantech's corporate vision is to enable an intelligent planet. The company is a global leader in the fields of IoT intelligent systems and embedded platforms. To embrace the trends of IoT, big data, and artificial intelligence, Advantech promotes IoT hardware and software solutions with the Edge Intelligence WISE-PaaS core to assist business partners and clients in connecting their industrial chains. Advantech is also working with business partners to co-create business ecosystems that accelerate the goal of industrial intelligence. (www.advantech.com)
The Taiwan Excellence Awards were established by the Ministry of Economic Affairs in 1993. Every year, eligible candidates are subjected to a rigorous and stringent selection process that covers the four major aspects of R&D, design, quality, and marketing to identify outstanding products that offer "innovative value" while satisfying the key criterion of being made in Taiwan. Products that have been selected for the Taiwan Excellence Awards would serve as examples of the domestic industries and be promoted by the government in the international market in an effort to shape the creative image of Taiwanese businesses.
Primary Media Contact
Advantech Co., Ltd
Eva Wang
Tel: +886-2-2792-7818 Ext. 9045
Mobile:+886 919-993-152
eva.wang@advantech.com.tw
Secondary Media Contact
Advantech Co., Ltd
Dev Lee
Tel: +886-2-2792-7818 Ext. 9756
Mobile: +886 925-917-316
dev.lee@advantech.com.tw