【New Product Announcement】Advantech Launches Video AI Counting Edge SRP for Intelligent People Counting and Heatmap Analysis
26/03/2020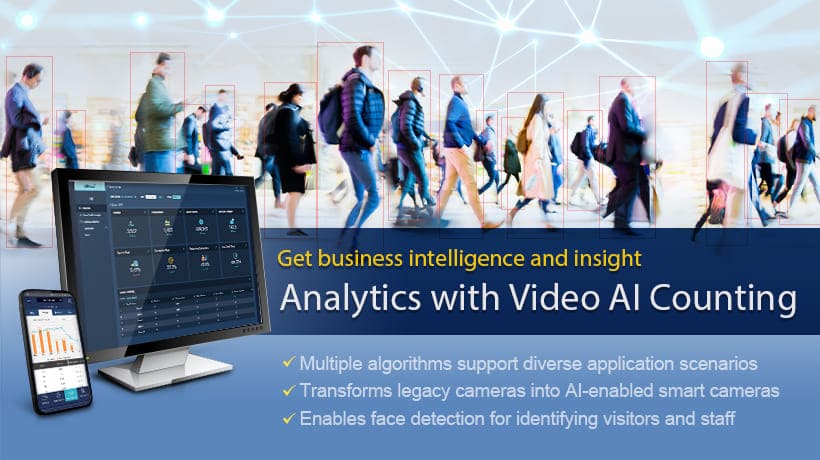 Taipei, Taiwan, 2020/3/27 – Advantech, a leading mobile platform provider, is pleased to announce the launch of its Video AI Counting Edge SRP (solution-ready package) aimed at people counting and heatmap generation for smart city applications. For the retail, exhibition, and hospitality sectors, understanding pedestrian flows allows enterprises to develop key strategies and optimize operations. This SRP transforms legacy cameras into smart cameras with AI-based analysis functions that provide real-time data for people counting, queue counting, heatmap generation, and facial detection operations. The data can also be accessed by local databases or industrial apps using the FTP or HTTP protocols for custom application/service integration.
Transforms Cameras into Real-Time Analysis Tools
Advantech's Video AI Counting Edge transforms your cameras into real-time analysis tools with the provision of AI technology that supports people counting, queue analysis, and facial detection for age/gender identification. Capable of cross-camera tracking and zooming, the smart counting cameras count the number of people entering/leaving a predefined area and measure dwell times, while facial identification algorithms filter out repeat visitors and staff to ensure accurate counting data. The collected data can be used to analyze customer demographics and produce area heatmaps that identify congestion points and provide actionable insights for optimizing operations.
Convenient Integration for Multi-Function Applications
To ensure convenient deployment in a wide range of scenarios, the Video AI Counting Edge supports RTSP, ONVIF, and webcam video formats and can be easily integrated with industrial apps and FTP/HTTP communication protocols for raw data downloads, facilitating diverse multi-function applications.
USM-260VAC-G1E-C for Body and Face Detection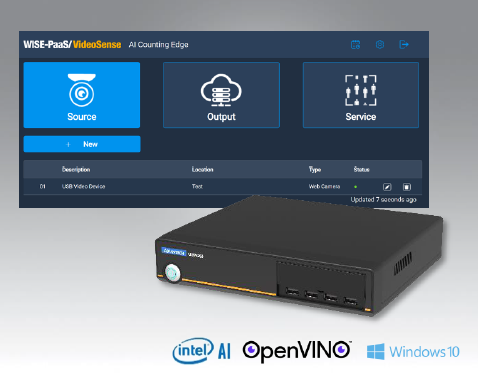 Equipped with AI-based counting software
Analysis functions include people counting, queue counting, heatmap analysis, facial analysis
Supports RTSP, ONVIF-complaint IP camera and webcam input
Supports WISE-PaaS Store BI cloud service
UCAM-120A-U01/UCAM-130A-U01 2D/3D Camera for Head Detection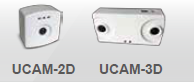 Intelligent all-in-one device for data capture, analysis, and delivery
Easy installation and configuration via web browser
Precise counting with 98% accuracy rate
Local data storage for counting reports
Comprehensive APIs for data integration
Advantech's Video AI Counting Edge SRP is available for order now. For more information about this or other Advantech products and services, please contact your local sales support team or visit our website at www.advantech.com.
Founded in 1983, Advantech is a leading provider of trusted, innovative products, services, and solutions. Advantech offers comprehensive system integration, hardware, software, customer-centric design services, embedded systems, automation products, and global logistics support. We cooperate closely with our partners to provide complete solutions for a wide range of applications in diverse industries. Our mission is to enable an intelligent planet by developing automated and embedded computing products and solutions that facilitate smarter working and living. With Advantech products, the number of potential applications and innovations made possible becomes unlimited. (Corporate website: www.advantech.com)