Advantech Announces Full Range of Intelligent Systems with 7th Generation Intel® Core i & Xeon® E3-1200 v6 Processors
12/01/2017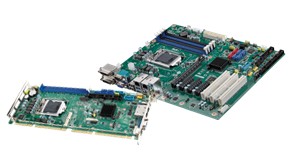 Advantech (2395.TW), a leading global provider of intelligent systems and platform solutions across multiple vertical markets, today announced a full range of platforms based on 7th generation Intel® Core™ processors, including industrial motherboards, slot single-board computers (SBCs), modular IPCs, industrial serverboards, and transportation platforms. With a high performance CPU for media, graphics and security, these new platforms are ideal for powering intelligent systems designed for diverse markets, such as video surveillance, medical, industrial automation and transportation infrastructure.

Advantech endeavors to promote this progress by designing products in accordance with the Intel® Intelligent Systems Framework. "To penetrate the global IoT market, Advantech is committed to developing platforms based on Intel® technology at every strategic point," said Linda Tsai, Vice President of Advantech's Industrial IoT Group. "Advantech has built a comprehensive portfolio of innovative solutions, ranging from high performance industrial servers, edge computers, and modular industrial computers, through to verticallyfocused transportation systems and intelligent video solutions."
7th Gen Intel® Core™ Technology Advances Intelligent System Solutions
Advantech has developed several product lines using 7th generation Intel® Core™ i7/i5 processors. PCE-5129, PCE-5029, PCE-7129, PCE-3029 and PCE-4129 represent the industrial-grade PICMG 1.3 SBC line, and AIMB-785 and AIMB-705 fill the ATX form factor line.

In the modular IPC product line, MIC-7700, AIIS-3400, AIIS-3410 focus on the machine automation market, and all these systems support 7thgeneration Intel Core i processors. In the transportation field, ITA-5231 and ITA-5831 products enhance the performance of passenger information systems, media broadcasting, and in-train surveillance.
These new products are equipped with multiple OS and Advantech SUSI Access and WISE-Cloud, and will be available from Q1 of 2017. For more information about these or any other Advantech products, please contact your local sales team.