Advantech's DLT-V83 and DLT-V72 Series Rugged Vehicle Computers Are Navis Ready
18/05/2019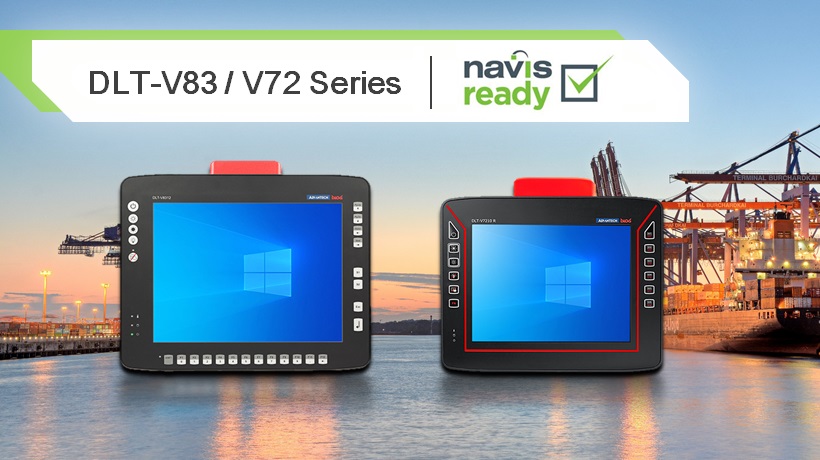 Taipei, Taiwan, May 2019 – Advantech, a leading provider of industrial computing platforms, is pleased to announce that its DLT-V83 and DLT-V72 series of rugged vehicle computers have been officially and independently validated as ready for integration with any shipping port or terminal running the Navis N4 terminal operating system (TOS), version 3.6.
With more than 340 global customers in over 80 countries, Navis Ready is the global standard and world-leading TOS provider. As a Navis-validated partner, Advantech guarantees that our DLT-V83 and DLT-V72 series rugged, high-performance vehicle computers can be seamlessly integrated into Navis N4 TOS environments at both the hardware and software level.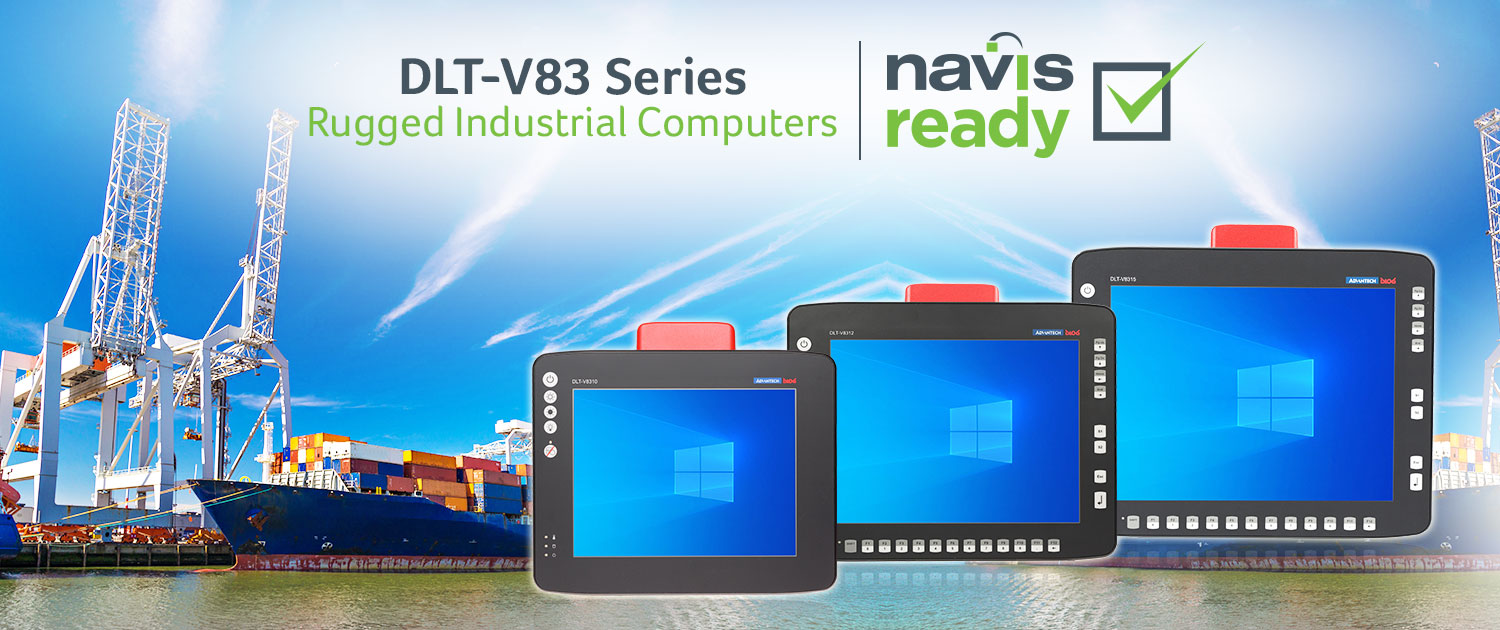 Advantech DLT-V83 Series – Rugged, Highly Configurable Vehicle-Mounted Terminals
Advantech's DLT-V83 series are highly configurable, high-performance industrial-grade terminals. DLT-V83 terminals support WLAN, LTE, and Bluetooth 4.2 technologies to enable real-time communication and uninterrupted data transmissions. To ensure reliable operation in harsh industrial environments, DLT-V83 terminals feature IP66-rated protection from water and dust ingress, 5M3 and MIL-STD-810F certification for shock and vibration tolerance, and a wide operating temperature range (-30 ~ 50 °C/-22 ~ 122 °F). Available with 10/12/15" displays, the DLT-V83 terminals' high configurability, interface diversity, and convenient customizability allow flexible deployment for a wide range of intralogistics, port management, and terminal operation applications.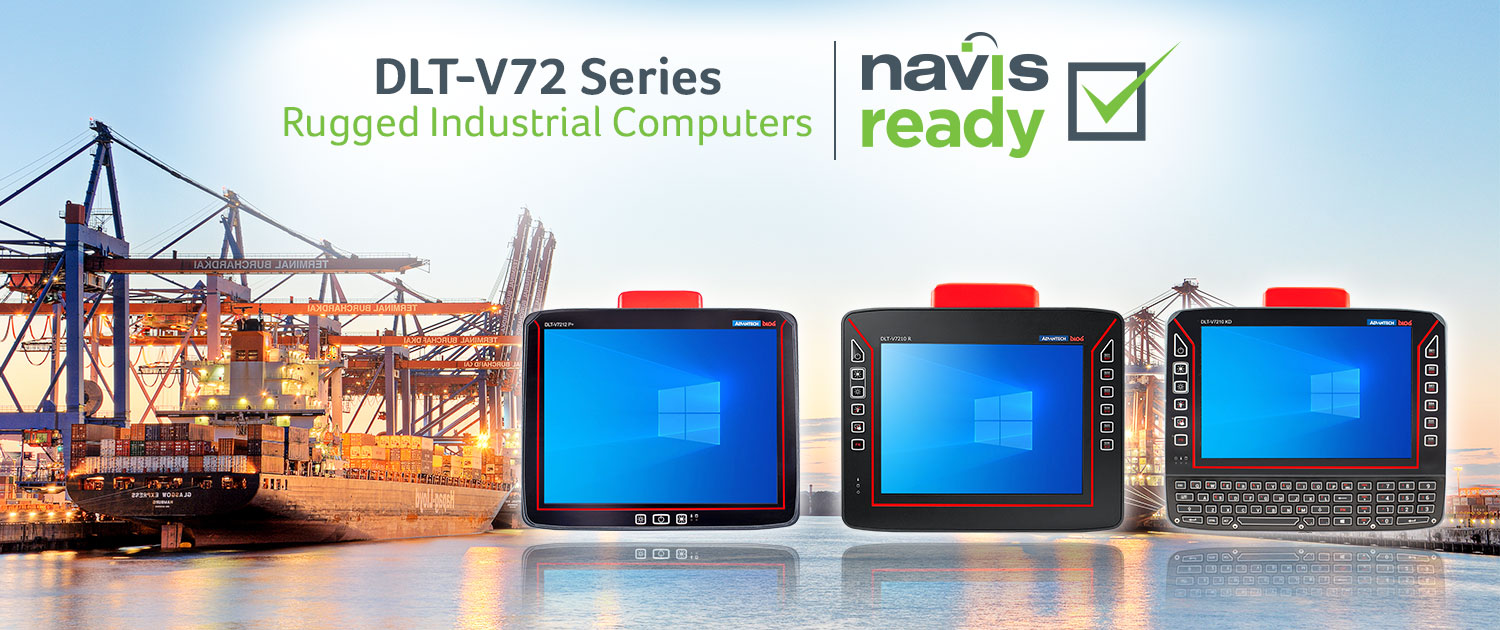 Advantech DLT-V72 Series – Rugged and Versatile Vehicle-Mounted Terminals
Advantech's DLT-V72 series systems offer excellent computing performance and comprehensive wireless connectivity, making them popular solutions deployed at many international shipping terminals for inventory management and yard operation applications. The DLT-V72 series comprises 10" and 12" terminals in three variants – a 10/12" terminal with 12 function keys, a 12" terminal with a true-flat display and PCAP touch capabilities, and a 10" widescreen terminal with a full-size 55-key keyboard. DLT-V72 terminals also feature IP66-rated protection, 5M3 and MIL-STD-810F certification, and a wide operating temperature range (-30 ~ 50 °C/-22 ~ 122 °F) for mission-critical port management applications. Furthermore, these terminals can be equipped with an optional screen defroster for operation in cold-storage environments.
All DLT-V83 and DLT-V72 terminals support flexible mounting, ensuring easy installation on forklifts, clamp trucks, yard mules, cranes, and more. The DLT-V83 and DLT-V72 series are available for order now. To obtain more information about Advantech's DLT vehicle-mounted computers, please visit our website at Product Page.
Founded in 1983, Advantech is a leading provider of trusted, innovative products, services, and solutions. Advantech offers comprehensive system integration, hardware/software solutions, embedded systems, automation products, customer-centric design services, and global logistics support. We cooperate closely with our partners to provide complete solutions for a wide range of applications in diverse industries. Our mission is to enable an intelligent planet by developing automated and embedded computing products and solutions that facilitate smarter working and living. With Advantech products, the potential for innovation is unlimited. (Corporate website: www.advantech.com)
Navis Ready is a validation testing program that is open to vendors supplying handheld devices and other hardware technologies within a marine container terminal operating environment. The program ensures that a vendor's hardware and specific messages have been tested and validated with specific versions of the Navis N4 TOS in an integration environment.
Navis, a part of Cargotec Corporation, is a provider of operational technologies and services that unlock greater performance and efficiency for the world's leading terminal operators and ocean carriers. Navis combines industry best practices with innovative technology and world-class services to enable our customers to maximize performance and reduce risk. Whether tracking cargo through a port, automating equipment operations, or managing multiple terminals through an integrated, centralized solution, Navis provides a holistic approach to operational optimization by providing customers with improved visibility and velocity, as well as measurable business results. (Corporate website: www.navis.com)