Advantech Accelerates the M.E.T. Effect from Edge Contribution to Cloud Distribution at NAB 2018
06/04/2018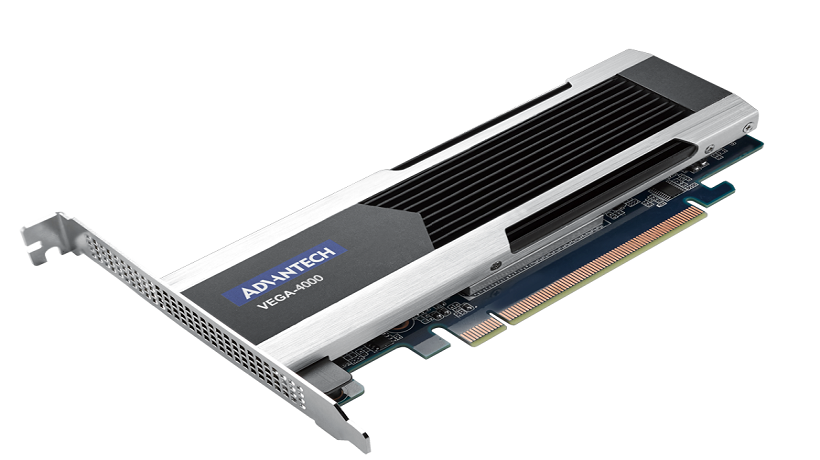 Las Vegas, NABshow, April
4th,
2018 –
Advantech (TWSE: 2395.TW), a global leader in providing trusted innovative embedded and automation products and solutions, today unveiled its plans for the NAB Show held in Las Vegas commencing April 9th where it will be demonstrating how the latest additions to its VEGA family of video solutions enable agile, scalable and cost-effective UHD/4K and 8K video processing and analysis anywhere in the media workflow. Executive management, senior architects, and product directors will be available in our booth #SU12010 to share Advantech's vision on how commercial-off-the-shelf access to powerful video acceleration can greatly contribute to the convergence of Media, Entertainment and Technology (the M.E.T effect) that is driving our industry forward.
"Online video content will dominate in the following years and we can see how key players in the media, telecom, and internet industries are positioning themselves in this direction," said David Lin, Associate Vice President for Video Solutions at Advantech. "Accelerating this new online video era is in our nature and so we will be at NAB to show companies how we can help them catch the video wave in a cost-effective and timely manner".
Media professionals attending the NAB show will be able to witness Advantech's latest video processing platforms for:
Video Intelligence and Analytics
At
NAB 2018
, Advantech will be announcing a brand new product line for accelerating the classification and analysis of video streams using reconfigurable Field Programmable Gate Array (FPGA) technology. Video inferencing and machine learning has become a hot topic as user generated content gets increasingly more pervasive, and Deep Neural Networks (DNNs) are deployed to manage the workload of classification and compliance. The new
VEGA-4000
family of PCI Express boards based on Xilinx FPGAs allow efficient deployment of optimized DNNs in a wide range of target environments.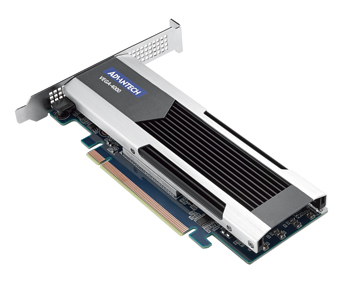 FPGA-based Reconfigurable Accelerators

, designed for Machine Learning, Inferencing, Encoding and Transcoding



UHD/8K Live Streaming & Broadcasting
Built upon proven UHD/4K technology, Advantech will be announcing an expanded partnership with Socionext to address 8K live HEVC encoding, streaming, and decoding for highly immersive experiences in a broad range of use cases including live OTT broadcasting, 360 VR, and medical applications. Built initially on the world's first single board 8K HEVC encoder, the VEGA-3304, the product line up will expand to include additional video capture modes, integrated system options with the new VEGA-7010 1U short depth broadcast edge video server, and a new all-in-one compact appliance, the VEGA-6304. At NAB, Advantech will show off the award-winning VEGA-3304, and the immersive experience advantages of 8K on both screen and VR headset using new 8K decoder technology from partner Socionext.
The Accelerated Video Cloud
Advantech will demonstrate high density and efficient live hardware transcoding solutions for the data center. By leveraging Socionext Media Cloud technology on a new Advantech VEGA 7310 1U server accelerated by up to four
VEGA-3318
transcoding cards, cloud service providers and equipment manufacturers will be able to deliver up to 32 x 4Kp60 live AVC or HEVC profiles per rack unit – still the highest density available in the market – with up to a 20X reduction in power consumption and rack space. The
VEGA-3318
accelerator was shortlisted for the IABM Design & Innovation Awards 2017 in the Playout & Delivery Systems category.
The
VEGA 2000 family
of small encoding and streaming modules can be embedded in a wide range of applications from self-broadcasting devices that stream video to social networks to wireless professional systems for anywhere broadcasting. The latest incarnation of the
VEGA 2001
is available in an OEM customizable box, supports from 1080p to 4Kp60 resolutions, SDI and HDMI capture, AVC and HEVC encoding, and implements streaming protocols commonly used by Content Delivery Networks and compatible with services like Facebook Live.
Low Latency Contribution and the IP Studio
Advantech VEGA platforms can support a range of point to point low latency video transport paths depending on distance and system requirements. Advantech's board and compact systems continue to support the AIMS roadmap and are planning releases to the latest SMPTE 2110 protocol for ultra-low latency transmission of uncompressed or lightly compressed video over standard IP networks. For longer distances or for lower speed contribution links, the latest generation of VEGA HEVC encoders support an ultra-low latency slice-based encoding mode that can reduce glass to glass delay for UHD/4K to under 100ms. Also unveiled, a new compact HEVC decoder: the
VEGA-6350
appliance capable of full contribution grade 10 bit 4:2:2 decoding at up to 160Mbit/s.
"The increasing amount of video content and the massive compute required by next generation resolutions, codecs, and analysis engines will outstrip the capability of the existing video infrastructure," said Brian Carr, Product Strategist and Marketing Director for Video Solutions at Advantech. "Advantech VEGA Video Solutions combine the best of the broadcast and IT worlds to solve the UHD HEVC processing challenge by putting world-class video acceleration technology at equipment manufacturers and service providers' fingertips. Thanks to our comprehensive design services and global presence, we are able to accompany customers all along the way engaging with them in a true partnership from product conception to market deployment."
Advantech will be showcasing their new products in NAB booth SU12010, April 9-12, 2018 in Las Vegas. For more information and to book an appointment, please contact video.solutions@advantech.com or visit www.video-acceleration.com.
Video Solutions Founded in 1983, Advantech is a leader in providing trusted, innovative products, services, and solutions. Advantech VEGA Video Platforms and PCIe Adapters are designed to boost video infrastructure performance from acquisition to distribution at the lowest power budget while fully complying with the media industry needs. By providing access to the latest 4K/8K UHD video processing and IP media technologies on commercial-off-the-shelf IT platforms we accelerate the deployment of next-generation, open and more efficient video solutions across a wide range of applications from broadcast encoding and high-density OTT transcoding to cloud, mobile and 360° video. Advantech's standard portfolio can be tailored to meet a range of system requirements, significantly reducing time-to-market effort for our customers.
Visit our website: www.video-acceleration.com or contact video.solutions@advantech.com