Advantech Releases Latest in Expert Machine Vision Series: EPC-P3000 with Intel 9th Gen CORE-i Desktop CPU Platform
07/02/2020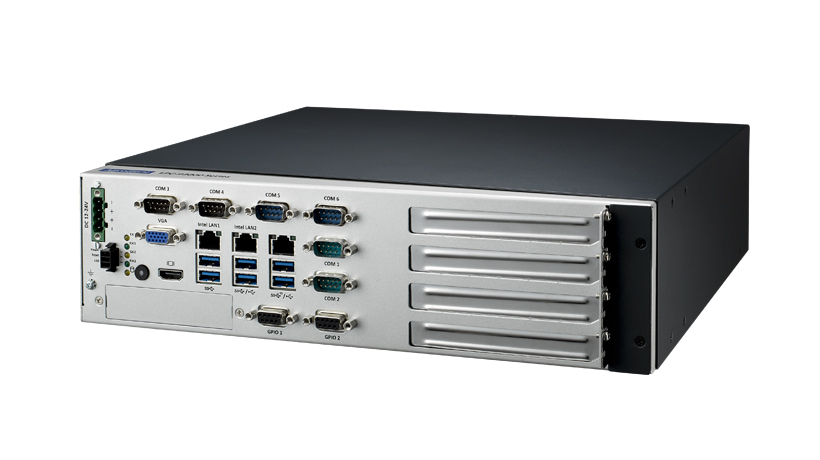 February, 2020, Taipei – Advantech, a leading company of embedded system solutions, is proud to release its newest embedded PC product line geared toward machine vision applications: the EPC-P3000 series. Powered by the Intel 9th Gen Desktop CPU platform, EPC-P3000 supports high computing performance with multiple expansion slots, enabling the deployment of high-accuracy machine vision at the edge. Edge computers, integrated with IP cameras and specific peripherals, can recognize, categorize, and label thousands of different packages in unmanned warehouses while holistically analyzing the manufacturing process and controlling robotic arms in fully automated factories.
High Performance for Heavy Workloads and Multi-Tasking
The EPC-P3000 series features an Intel 9th Gen Desktop CPU platform—delivering the performance needed for smart factory activities like deploying video AI algorithms for object recognition and dispatching hundreds of packages towards different endpoints simultaneously. The intricate algorithm offers an ideal solution for improving system response time when facing heavy workloads.
Plentiful Expansion Options for Industrial Machine Vision Applications
Among all scenarios for machine vision edge computing, the GPU cards, PoE, motion control cards, and capture cards are required to form different combinations according to various applications. EPC-P3000 supports 4 PCIe expansion slots, corresponding riser cards, and 1 Advantech iDoor. Dedicated edge computers can be configured by simply inserting specific PCIe cards and iDoor options. Plentiful expansion options make the EPC-P3000 series highly flexible for the industrial AIoT market.
Multiple I/O Ports Support Different Peripherals
The EPC-P3000 series comes with 6 COM ports, 16bits GPIO, HDMI, VGA, 6 USB 3.0, 1 iDoor, 4 PCIe/PCI slot (4 different types), and a remote power connector (2x3P) allowing users to consolidate legacy and modern peripherals in one computing system while building data streaming into multiple routing devices. EPC-P3000 is capable of managing peripheral settings to support a wide spectrum of peripherals in AIoT industrial applications.
Value-Added Software for Remote System Management
Advantech WISE-PaaS/DeviceOn is a software solution designed to remotely manage edge computers. The software helps prevent system failure by monitoring hardware and software operations instantaneously. Over-the-air software installation saves on maintenance and labor costs. The BIOS can be remotely updated through this DeviceOn and the BIOS recovery mechanism guards the system against unexpected interruptions from BIOS updates. WISE-PaaS/DeviceOn enhances the reliability of EPC-P3000 series products while reducing total cost of ownership.
EPC-P3000 Series Key Features
Supports Intel® 8th/ 9th Gen Core™ i processor (LGA1151) with Intel C246/ H310 chipset
Up to 4 x extended Card by Riser Card
3 x GigaLAN and 8 x USB3.0
2 x RS-232/422/485 and 4 x RS232 serial ports, 16 bit GPIO
4 x SATA, 1 x M.2 E key, 1 x M.2 B/M key, 2 x F/S mSATA
VGA+HDMI or 2 x HDMI output
12~24V DC input power range

Support Advantech I Door moudle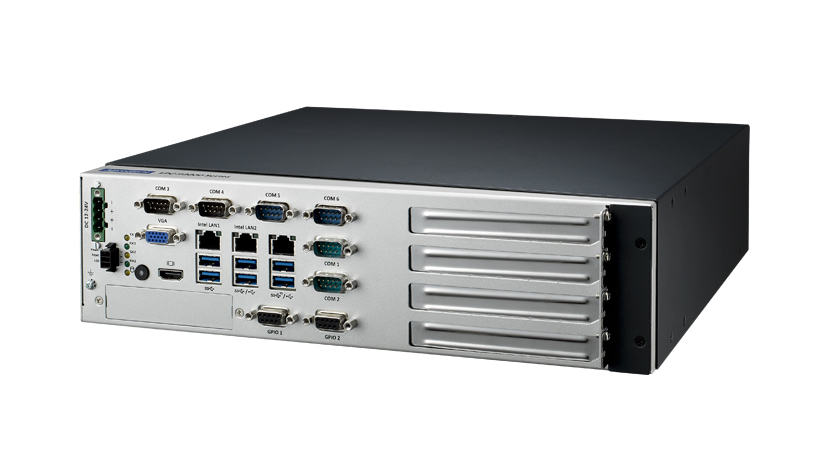 Advantech EPC-P3000 series is available for order now! With our ultimate system configuration service—Advantech Configure to Order Services (CTOS)—the time-to-market of the EPC-P3000 series can be accelerated to 30 days utilizing Advantech's global assembly and logistic facilities. For more information, please contact an Advantech sales office, authorized channel partner, or visit our website: www.advantech.com
As a leader in the embedded market, Advantech Embedded-IoT Group not only delivers a wide range of embedded design-in services but also develops a series of integrated IoT solutions and services to assist customers in minimizing risk and uncertainty when approaching the IoT market. Advantech Integrated IoT Solutions include sensor nodes and gateways to the WISE-PaaS IoT software platform. Embedded-IoT.advantech.com
Founded in 1983, Advantech is a leader in providing trusted, innovative products, services, and solutions. Advantech offers comprehensive system integration, hardware, software, customer-centric design services, embedded systems, automation products, and global logistics support. We cooperate closely with our partners to help provide complete solutions for a wide array of applications across a diverse range of industries. Our mission is to enable an intelligent planet with Automation and Embedded Computing products and solutions that empower the development of smarter working and living. With Advantech, there is no limit to the applications and innovations our products make possible. (Corporate Website: www.advantech.com).